And the type of program management—— Item settings
Website management - Item settings
It means set sort, per row count, width and height of thumbnail, purview, etc.
Path: Manage menu in the left side of back "Website management"→"Item settings"
Click "Item settings ", page layout of back shown below.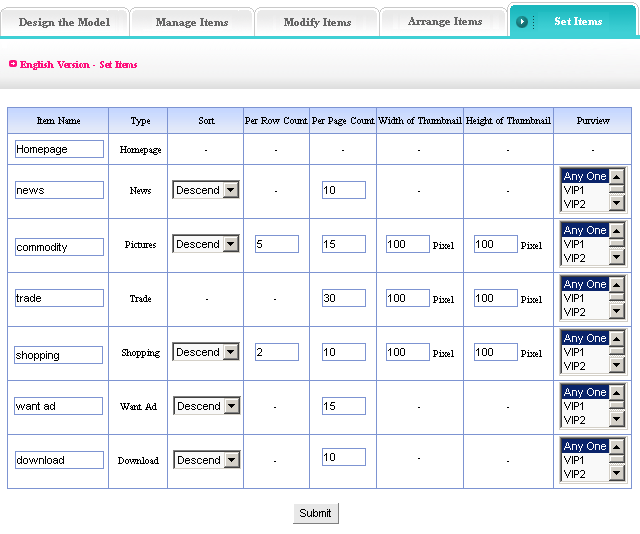 We elaborate the meaning and function of each item in image above:
Sort: it is different from the sequence in "arrange item", the sequence means the order of items shown. the sort commonly means the item type, such as "News", "Images", "Feedback", "Guestbook", "Want ad", "Download", "Shopping", "Self form",การตอบกลับ",the content isnot be added at the same time, so we may select sort here. It includes "Ascend","Descend", and "Self". That mainly depends on the sequence number we filled in when we add content.
Per row count: That is in "Images" and "Shopping" two items, the number of images displayed in per row. You may set according to different need and habit.Per page count: Set content of "News", "Page", "Guestbook", "Trade", "Want ad","Download", "Shopping", "Self form" shown in each page. Adjust it according to your different need and artistic website.
Width and height of thumbnail: the function is to define the thumbnail which need uploaded in "Images", "Trade", "Shopping". Set it according to the integrated structure and artistic of webpage.
Purview: Set the authority of visitors.
All the options completed, click "submit ", set item settings successfully.