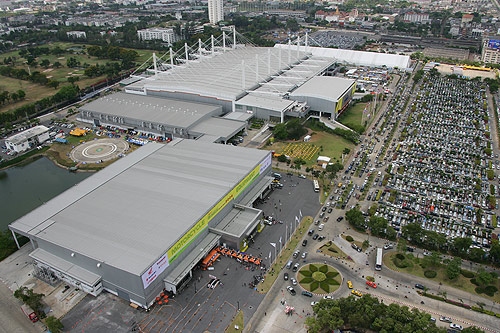 THE BANGKOK INTERNATIONAL MOTOR SHOW

The Bangkok International Motor Show Today, automotive technologies are modernized very fast such as cars, motorcycles, including related industries. All modern technologies are provided in each product beginning from modern design, facilities, excellent performance, low emission, and economical. Each type of product must be developed by high technology with exclusive materials in order to satisfy consumers.
The products and technologies exhibition is as important as other media in presenting products to consumers. The automotive exhibition that is accepted by most of Thai people both consumers and automotive companies including foreigners to be the best motor show of Asia except Tokyo Motor Show is "Bangkok International Motor Show". This year is the 24th show organized by Grand Prix International Co., Ltd.
This year, all automotive companies including related industry pay much attention to the mentioned show. There are planning to bring modern technologies to show in this event for people and students to know the automotive progressions with introducing new models to Thai market as well.
First Motor Show at Lumpini Park

After 5 years of running automotive magazine business, Dr. Prachin Eamlumnow on behalf of the owner of Grand Prix Magazine and Grand Prix International Co., Ltd had an idea to hold the event related to the business he was running. After planning, his first event is "Car of the Year Contest" by using luxury hotel in Bangkok as a venue. The mentioned show was only one-day event. After this event, Dr. Prachin had more idea to hold longer and bigger event because media and people interest in his show. So, he made an out-line of the show and cooperate with automotive companies to hold this show. When everything was ready, Lumpini Park was chosen to be the venue for his first motor show.
The result of this show on May 1979 is that wave of people come to visit the show and other activities more than expected. That is the history of Thailand's first Motor Show.
2nd - 18th at Suan Amphorn
The success of the first Motor Show results Dr. Prachin to have the new plan beginning with changing the name of the show to "Bangkok International Motor Show". Then, he moved the venue from Lumpini Park to Suan Amphorn. This new place has a lot more facilities than the previous place; so, Suan Amphorn became the venue for Bangkok International Motor Show from that time. In each year, the form of the event was modernized and had more variety of activities for attracting people.
In order to make this show to be more international, Dr. Prachin also held a trip seminar to see motor show in others countries such as Tokyo Motor Show, Frankfurt Motor Show, Detroit Motor Show, Geneva Motor Show, etc. The objectives of this trip seminar are to improve Bangkok International Motor Show to be more international and to show potential of Thailand.
After that, the expanding of Thai automotive industry is increasing a lot. Especially in 1996, the grand total sale of passenger cars for Thai market is up to 500,000 units and over 1,000,000 units for motorcycles. This results foreign automotive companies to pay much attention and move their based factories to Thailand.
Organizers of the show always improve the form of the show every year in order to compete with bigger motor show like Tokyo Motor Show or Frankfurt Motor Show. But, the capacity of Suan Amphorn cannot receive new concept of every automotive companies and with over 2,000,000 people visiting the show and inadequate parking space. So, the 18th Bangkok International Motor Show was the last Motor Show held at Suan Amphorn.

From that time, GPI Group decided to change the venue again, the 19th Bangkok International Motor Show was the first time at Bangkok International Trade Exhibition Centre (BITEC) located on Bangna-Trad Road in order to comply with the name "Detroit of the East". With 35,500 square metres capacity, perfect infrastructure, and 2,500 parking spaces, automotive companies are able to show their fully potentials.
In addition, automotive companies joining the show will have a chance to bring the newest technologies to show in this event for people to know such as concept cars, super cars, hi-technology engines, concept motor bikes, motor sport equipments, cars stereos, and others. Furthermore, organizers hold several activities during the show such as sport cars show from Ferrari Club, Porsche, Classic Cars, Volkswagen, Austin Mini, Alfa Romeo, Haley Davidson, etc.